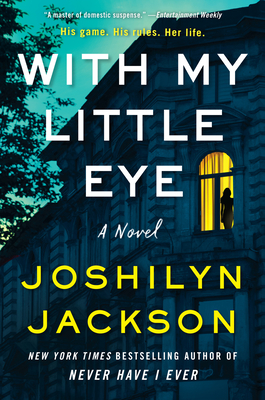 With My Little Eye: A Novel
Publication Date:
April 25th, 2023
Publisher:
William Morrow
Usually Ships in 1 to 5 Days
Wow! A roller coaster ride combining Dungeons and Dragons with Agatha Christie. Joshilyn Jackson continues to refine her mystery/suspense cred in this compelling whodunnit. Great for beach reading or any other time!
May 2023 Indie Next List
Description
From the New York Times bestselling author of Never Have I Ever comes the hair-raising story of a mother who moves herself and her daughter across the country to escape a dangerous stalker— but she can't keep herself and her daughter safe from a monster she can't identify
HIS GAME. HIS RULES. HER LIFE.
It started with the letters…
For actress Meribel Mills, disturbing fan mail is part of the price of fame. So when she starts getting creepy letters written in fruit-scented marker she's mostly unfazed. But there's something different about Marker Man…
He's been in her home…
Meribel's sheets smell of unfamiliar cologne, and objects are changing places inside her house. While the police insist that stalkers hardly ever escalate to violence, Meribel has played the dead girl one too many times on TV to risk becoming her in real life. She and her daughter move from Los Angeles to Atlanta for a fresh start—but no distance is great enough.
He's watching her…
Years of being in front of a camera have given Meribel a superpower—she can feel eyes on her, and someone definitely has her in their sights. Could Marker Man have followed her all the way across the country? Suddenly, every man in her life is a suspect and Meribel finds herself in the fight of her life, desperate to protect those she loves as danger closes in from all sides.
If he can't have her, no one can.
Look for these other pulse-pounding thrillers by New York Times bestselling author Joshilyn Jackson:
Mother May I
Never Have I Ever
Praise for With My Little Eye: A Novel
"A dark, twisting confection, With My Little Eye will send readers racing through its pages. Joshilyn Jackson is a master storyteller." — Karin Slaughter, New York Times bestselling author of Pieces of Her and the Will Trent series
"Clever, propulsive, and full of surprises, With My Little Eye is top flight psychological suspense. Joshilyn Jackson is a deft and intelligent writer who dives deep into character while masterfully ratcheting up the suspense and tension with every scene. You'll feel the suffocating fear of being watched and followed, and know a mother's desperation to protect the ones she loves, as you tear through this breathless, enthralling read." — Lisa Unger, New York Times bestselling author of Secluded Cabin Sleeps Six

"In With My Little Eye, Joshilyn Jackson proves once again that she's not only a masterful storyteller, but a literary magician. Beneath this thrilling, breakneck story of an actress being pursued by a mysterious stalker (his lurid "fan" notes alone will compel you to lock your doors), there's smart, savage humor and incisive questions—about courage and fear, forgiveness and revenge, and the murky, complicated business of telling and keeping secrets. I have devoured every one of Jackson's novels, and this is her best yet. I defy you to put it down." — Abbott Kahler, New York Times bestselling author on With My Little Eye
"With My Little Eye doubles down on the thrills.... Expect plenty of twists and turns along the way." — Atlanta Journal-Constitution
"Psychologically damaged but charismatic characters, a riveting plot, and taut suspense make this a fine pick for suspense fans." — Booklist
"Jackson, a former actor herself, wryly describes the actor's life while providing just enough twists… Those looking for escapist fun will be rewarded."  — Publishers Weekly on With My Little Eye
"Joshilyn Jackson is one of our favorite authors, and she once again returns to the thriller genre with this new novel. It's a truly frightening tale of actress and mother Meribel Mills who has a stalker she refers to as the Marker Man. She moves from L.A. to Atlanta in an effort to escape him, only to suspect that he followed her across country." — Country Living on With My Little Eye
"Jackson crafts a finely paced, shrewdly observed, multi-tiered story which moves with ease between past and present. Older events that prompt current actions are uncovered; pressing issues of class, race and sexual abuse are viscerally dramatized. Mother May I is a thinking (and feeling) reader's thriller, a literary beach read." — Wall Street Journal
"Joshilyn Jackson's latest riveting thriller starts with a bang and doesn't let up, asking how well you truly know the people around you—and how far you're willing to go for the ones you love. A true page-turner that will stick with me for a long time." — Megan Miranda, New York Times bestselling author of The Girl from Widow Hills, on Mother May I
"Longtime readers of Jackson's who embraced her genre switch from Southern fiction to domestic thriller with Never Have I Ever will be glad to see she's taken things a step grittier and darker with Mother May I. Fast-paced and twisty, there's also redemption and a bit of grace down that debris-filled, winding road." — Atlanta Journal-Constitution
"Joshilyn Jackson does it again with this explosive, white-knuckle read about a mother who will stop at nothing to protect her family. Terrifying, timely and thought-provoking, I couldn't tear my eyes away from Mother May I." — Mary Kubica, New York Times bestselling author of The Other Mrs.
"Gripping . . . The dark secret at the novel's heart rings all too true. Jackson knows how to ratchet up the suspense." — Publishers Weekly on Mother May I
"All the things we love about Joshilyn Jackson come together with panache in Mother May I: subtle yet scalding insights on the nature of privilege, compelling, vibrant characters, and the wily plot and breakneck pace of a thriller. Mother May I sets a new standard for the genre: it's razor-sharp, merciless, and masterful." — Rose Carlyle, #1 internationally bestselling author of The Girl in the Mirror, on Mother May I
"If Joshilyn Jackson has not yet been deemed the Queen of the Twist, I would like to award her that title. I picked up Mother May I before bed, wholly unprepared for how immediately drawn in I would be. I stayed up way too late and then did not put it down the entire next day. Rarely do I say something is "unputdownable," but I have no reservations about saying so in this case. Such a fantastic psychological mystery — I was enthralled until the very end!" — Shane Mullen of Left Bank Books for Buzzfeed News, on Mother May I
"One writer who never fails to amuse is Atlanta author Joshilyn Jackson. She brings humor to all her work as well as a relatable yet quirky voice. Both of those strengths are evident in Mother May I . . . The stakes are higher than they have ever been. What is more important than protecting your own child? Bree is one of Jackson's most relatable characters, and readers will root for her as she tries to negotiate a nightmarish game of revenge and deceit." — The Augusta Chronicle (Atlanta) on Mother May I
"An addictive domestic suspense, Jackson's latest asks how far a mother will go to protect her child." — Parade on Mother May I
"Wonderful—suspense and surprises, real characters, and a scary, ominous backbeat. This feels like the book Jackson was born to write." — Lee Child, New York Times Bestselling Author, on Never Have I Ever
"[An] epic duel between two flawed women—it's the perfect thriller to round out your summer." — People on Never Have I Ever
"Several plot twists are surprising and effective, and there are gripping sequences involving Amy's work as a deep-sea diver woven logically into the narrative... Perfect beach read." — Wall Street Journal on Never Have I Ever
"Bestselling author Jackson packs in dramatic reveals about the women's complex histories." — Time on Never Have I Ever
"A smart, original thriller with real, compelling characters and a chilling reveal. I couldn't turn the pages fast enough." — Clare Mackintosh, New York Times bestselling author of I Let You Go, on Never Have I Ever