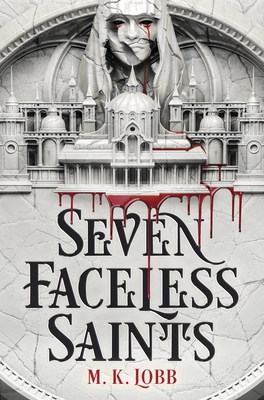 Seven Faceless Saints
Publication Date:
February 7th, 2023
Publisher:
Little, Brown Books for Young Readers
Usually Ships in 1 to 5 Days
A book fantasy fans will love. In a world where those favored by the Saints exploit those who aren't, two former lovers team up to solve a series of inexplicable murders and discover sinister secrets about their city — and about each other.
March/April 2023 Kids Indie Next List
Description
Discover what's lurking in the shadows in this dark fantasy debut with a murder-mystery twist, perfect for fans of Leigh Bardugo and Kerri Maniscalco.
In the city of Ombrazia, saints and their disciples rule with terrifying and unjust power, playing favorites while the unfavored struggle to survive.
After her father's murder at the hands of the Ombrazian military, Rossana Lacertosa is willing to do whatever it takes to dismantle the corrupt system: tapping into her powers as a disciple of Patience, joining the rebellion, and facing the boy who broke her heart. As the youngest captain in the history of Palazzo security, Damian Venturi is expected to be ruthless and strong and to serve the saints with unquestioning devotion. But three years spent fighting in a never-ending war have left him with deeper scars than he wants to admit…and a fear of confronting the girl he left behind.
Now a murderer stalks Ombrazia's citizens. As the body count climbs, the Palazzo is all too happy to look the other way—that is, until a disciple becomes the newest victim. With every lead turning into a dead end, Damian and Roz must team up to find the killer, even if it means digging up buried emotions. As they dive into the underbelly of Ombrazia, the pair will discover something more sinister—and far less holy. With darkness closing in and time running out, will they be able to save the city from an evil so powerful that it threatens to destroy everything in its path?
Praise for Seven Faceless Saints
"A dark and delicious murder mystery. M.K. Lobb has created a fantastical and evocative world, blending the genres of fantasy, romance, and a murder mystery into one epic story. With lush prose, gripping characters, and an intricate lore that will keep you turning the pages, Seven Faceless Saints is an absolute hit."—Adalyn Grace, New York Times bestselling author of Belladonna
"Seven Faceless Saints is the rich taste of ceremonial wine, stolen kisses at midnight, a gallery lined by shrouded statues, and the flames of a corrupt system as it burns to the ground. M.K. Lobb has crafted an intricate world that is both dark and alluring; the perfect backdrop for the tempestuous romance of the two protagonists."—Lyndall Clipstone, author of Lakesedge and Forestfall
"With an impressive and balanced command of gorgeous prose and compelling pace, Seven Faceless Saints draws its readers into a mystery as intelligent as it is intriguing. I thoroughly enjoyed the richness of Ombrazia, which perfectly complements the fresh, compelling characters Lobb has so artfully woven into this story's every page. Truly, this is an exceptional debut, sure to find many, many fans."—Ayana Gray, New York Times-bestselling author of the Beasts of Prey trilogy
"M.K. Lobb's tale of fallen saints and murdered disciples grabs you by the throat from the first dark, edgy, paranoia-induced pages, and never lets go. The world is deeply immersive, the prose sharp and the shadows alive with eerie possibility. Bleak, bloody, and beautifully drawn, Seven Faceless Saints is a book with teeth."—Nicki Pau Preto, author of the Crown of Feathers trilogy
"A dazzlingly sinister tale of magic, mayhem, and murder. Lobb's debut has truly got it all: exquisitely drawn characters, an opposites-attract romance with top-notch pining, and a world so immersive, you'll want to wander the Palazzo's every shadowy corridor and uncover its every horrible secret. Prepare for your next obsession."—Allison Saft, New York Times bestselling author of A Far Wilder Magic
"M.K. Lobb's debut is enthralling, taut, and utterly immersive. Part richly-imagined fantasy and part eerie murder mystery, I devoured this book in one sitting."—Emily Lloyd-Jones, author of The Bone Houses
"A thrilling mystery that is as full of twists and turns as it is searing romantic tension, Seven Faceless Saints is a heart-stopping saga about a religious elite teeming with corruption and the rebellion that works to bring them down from within."—Kelly Andrew, author of The Whispering Dark
"Emotionally complex characters, rhythmic writing, and a cunningly crafted mystery distinguish Lobb's series launch, which balances action and romance with meditations on faith and fate."—Publishers Weekly
"The genre-bending high fantasy murder mystery concept is intriguing, and the narrative raises some interesting questions about the nature of faith and unquestioning loyalty."—School Library Journal