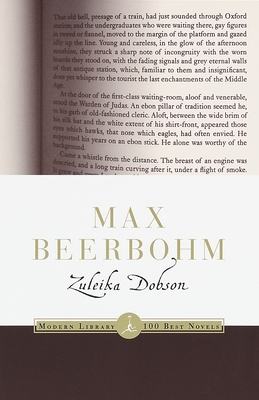 Zuleika Dobson (Modern Library 100 Best Novels)
Publication Date:
September 14th, 1998
Publisher:
Modern Library
Usually Ships in 1 to 5 Days
Description
Selected by the Modern Library as one of the 100 best novels of all time
"Zuleika Dobson is a highly accomplished and superbly written book whose spirit is farcical," said E. M. Forster. "It is a great work--the most consistent achievement of fantasy in our time . . . so funny and charming, so iridescent yet so profound."
   Originally published in 1911, Max Beerbohm's sparklingly wicked satire concerns the unlikely events that occur when a femme fatale briefly enters the supremely privileged, all-male domain of Judas College, Oxford. A conjurer by profession, Zuleika Dobson can only love a man who is impervious to her considerable charms: a circumstance that proves fatal, as any number of love-smitten suitors are driven to suicide by the damsel's rejection. Laced with memorable one-liners ("Death cancels all engagements," utters the first casualty) and inspired throughout by Beerbohm's rococo imagination, this lyrical evocation of Edwardian undergraduate life at Oxford has, according to Forster, "a beauty unattainable by serious literature."
   "I read Zuleika Dobson with pleasure," recalled Bertrand Russell. "It represents the Oxford that the two World Wars have destroyed with a charm that is not likely to be reproduced anywhere in the world for the next thousand years."