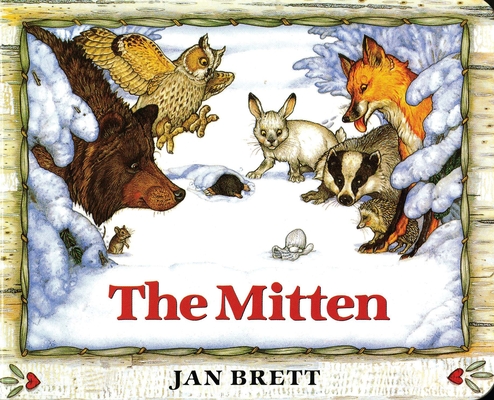 The Mitten
Publication Date:
October 4th, 1996
Publisher:
G.P. Putnam's Sons Books for Young Readers
Usually Ships in 1 to 5 Days
Description
In this bestselling modern classic, a young boy's lost mitten leads to a charming snowy adventure. Jan Brett's beautiful retelling is a family favorite and the board book edition is the perfect gift for the youngest readers.
When Nicki drops his white mitten in the snow, he goes on without realizing that it is missing.
One by one, woodland animals find it and crawl in; first, a curious mole, then a rabbit, a badger and others, each one larger than the last. Finally, a big brown bear is followed in by a tiny brown mouse and what happens next makes for a wonderfully funny climax.
As the story of the animals in the mitten unfolds, the reader can see Nicki's snowy outing in the borders of each page.
In her distinctive style, Jan Brett brings the animals to life with warmth and humor, and her illustrations are full of visual delights and details faithful to the Ukrainian tradition from which the story comes.
Jan Brett is also the creator of such wintery classics as The Hat, The Snowy Nap, The Three Snow Bears, The Animals' Santa, and The Night Before Christmas.
This book is also available in Spanish, as El mitón.
"Grandmother knits snow-white mittens that Nikki takes on an adventure. Readers will enjoy the charm and humor in the portrayal of the animals as they make room for each newcomer in the mitten and sprawl in the snow after the big sneeze."
-The Horn Book
Praise for The Mitten
"The illustrations are exquisite . . . a charming lap book to be pored over again and again." —School Library Journal
"Readers will sit back and suspend belief and welcome this tall tale from the Ukrainian tradition." —Publishers Weekly
"Grandmother knits snow-white mittens that Nikki takes on an adventure. Readers will enjoy the charm and humor in the portrayal of the animals as they make room for each newcomer in the mitten and sprawl in the snow after the big sneeze."  -The Horn Book