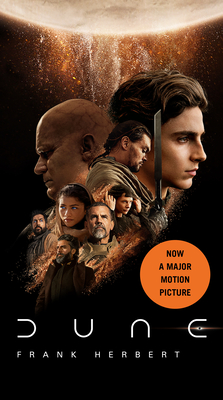 Dune (Movie Tie-In)
Publication Date:
September 28th, 2021
Description
NOW A MAJOR MOTION PICTURE directed by Denis Villeneuve, starring Timothée Chalamet, Zendaya, Jason Momoa, Rebecca Ferguson, Oscar Isaac, Josh Brolin, Stellan Skarsgård, Dave Bautista, David Dastmalchian, Stephen McKinley Henderson, Chang Chen, Sharon Duncan-Brewster, Charlotte Rampling, and Javier Bardem.
Frank Herbert's classic masterpiece—a triumph of the imagination and one of the bestselling science fiction novels of all time.
A mythic and emotionally charged hero's journey, Dune tells the story of Paul Atreides, a brilliant and gifted young man born into a great destiny beyond his understanding, who must travel to the most dangerous planet in the universe to ensure the future of his family and his people. As malevolent forces explode into conflict over the planet's exclusive supply of the most precious resource in existence—a commodity capable of unlocking humanity's greatest potential—only those who can conquer their fear will survive.
Praise for Dune (Movie Tie-In)
Praise for Dune
"I know nothing comparable to it except The Lord of the Rings."—Arthur C. Clarke
"It is possible that Dune is even more relevant now than when it was first published."—The New Yorker
 
"An astonishing science fiction phenomenon."—The Washington Post 
"One of the monuments of modern science fiction."—Chicago Tribune
"Powerful, convincing, and most ingenious."—Robert A. Heinlein
 
"Herbert's creation of this universe, with its intricate development and analysis of ecology, religion, politics and philosophy, remains one of the supreme and seminal achievements in science fiction."—Louisville Times