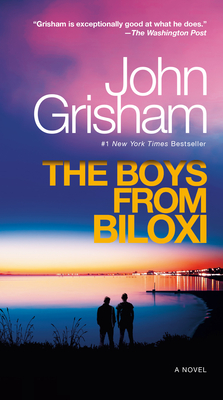 The Boys from Biloxi: A Legal Thriller
Publication Date:
August 22nd, 2023
Usually Ships in 1 to 5 Days
Description
#1 NEW YORK TIMES BESTSELLER • Two families. One courtroom showdown. • John Grisham's most gripping thriller yet. • "A legal literary legend." —USA Today
 
John Grisham returns to Mississippi with the riveting story of two sons of immigrant families who grow up as friends, but ultimately find themselves on opposite sides of the law. Grisham's trademark twists and turns will keep you tearing through the pages until the stunning conclusion.
For most of the last hundred years, Biloxi was known for its beaches, resorts, and seafood industry. But it had a darker side. It was also notorious for corruption and vice, everything from gambling, prostitution, bootleg liquor, and drugs to contract killings. The vice was controlled by small cabal of mobsters, many of them rumored to be members of the Dixie Mafia.
 
Keith Rudy and Hugh Malco grew up in Biloxi in the sixties and were childhood friends, as well as Little League all-stars. But as teenagers, their lives took them in different directions. Keith's father became a legendary prosecutor, determined to "clean up the Coast." Hugh's father became the "Boss" of Biloxi's criminal underground. Keith went to law school and followed in his father's footsteps. Hugh preferred the nightlife and worked in his father's clubs. The two families were headed for a showdown, one that would happen in a courtroom.
 
Life itself hangs in the balance in The Boys from Biloxi, a sweeping saga rich with history and with a large cast of unforgettable characters.
Don't miss John Grisham's new book, THE EXCHANGE: AFTER THE FIRM!

Praise for The Boys from Biloxi: A Legal Thriller
Praise for John Grisham:
 
"A legal literary legend." —USA Today
 
"John Grisham is about as good a storyteller as we've got in the United States these days." —The New York Times Book Review
 
"Grisham's work — always superior entertainment — is evolving into something more serious, more powerful, more worthy of his exceptional talent." —The Washington Post