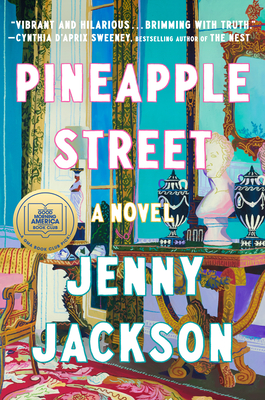 Pineapple Street: A GMA Book Club Pick (A Novel)
Publication Date:
March 7th, 2023
Publisher:
Pamela Dorman Books
Usually Ships in 1 to 5 Days
A wholly entertaining novel about a blue-blooded Brooklyn family and their reckoning with their privilege and wealth. There is an inevitable relatability to a dysfunctional family who is (mostly) trying their best in the world.
March 2023 Indie Next List
Description
A New York Times bestseller | A Good Morning America Book Club Pick
Chosen as a best book of the year by The New York Times | The New Yorker | Time | NPR | USA Today | Elle | Harper's Bazaar | Town & Country

"The season's first beach read, a delicious romp of a debut featuring family crises galore."— The New York Times

"A delicious new Gilded Age family drama… a guilty pleasure that also feels like a sociological text." —Vogue
A deliciously funny, sharply observed debut of family, love, and class, this zeitgeisty novel follows three women in one wealthy Brooklyn clan
Darley, the eldest daughter in the well-connected old money Stockton family, followed her heart, trading her job and her inheritance for motherhood but giving up far too much in the process; Sasha, a middle-class New England girl, has married into the Brooklyn Heights family, and finds herself cast as the arriviste outsider; and Georgiana, the baby of the family, has fallen in love with someone she can't have, and must decide what kind of person she wants to be. 
Rife with the indulgent pleasures of life among New York's one-percenters, Pineapple Street is a smart, escapist novel that sparkles with wit. Full of recognizable, loveable—if fallible—characters, it's about the peculiar unknowability of someone else's family, the miles between the haves and have-nots, and the insanity of first love—all wrapped in a story that is a sheer delight.
Praise for Pineapple Street: A GMA Book Club Pick (A Novel)
Praise for Pineapple Street:

"A delicious new Gilded Age family drama—almost a satire—set in the leafy enclaves of Brooklyn Heights....A lighthearted book that captures a slice of New York society, a guilty pleasure that also feels like a sociological text, punctuated with very particular references to restaurants, preschools, nightclubs, and other pillars of urban life in 2023."
—Vogue

"Those who want to eat the rich may salivate while reading Pineapple Street...This breezy read is the bookish equivalent of an effervescent Netflix dramedy. Expect to be entertained."
–The Wall Street Journal
"[An] engaging debut."
–The New Yorker
"A witty, easy-to-devour story of wealth and love's never-ending war in the modern age."
—Elle
"This witty novel about the haves and have-mores is Succession with a soul."
—TIME
"Sparkling....The book is smart and sharply observed, peppered with small gems."
—The Washington Post
"A smart comedy of manners… The moment when a good writer transforms an everyday detail about cheese cubes into an observation about the casual cruelties of class hierarchy — remains as jolting as getting or throwing a pie in the face. Here's to being the thrower!"
—Maureen Corrigan, Fresh Air
"Love is at the heart of this sparkling debut novel by Jenny Jackson, which excavates old money and contemporary problems with satiric flair."
—Southern Living
"This delicious family saga provides a voyeuristic look into the lives of an ultra-wealthy Brooklyn Heights clan. Expect doomed romances, real estate dealings and lots of tennis."
—New York Post
"This novel...is laugh-out-loud good....Love and money have always mixed like oil and water (not well), but Jackson finds new humor and warmth in her particularly witty debut."
—Harper's Bazaar
"A novel about inheritance and the cultural inanities of the American WASP, set in a maximalist mansion? Don't mind if I do. Pineapple Street is more than a field report on the WASPs and their shabby-sweater super-wealth, of course—it's about class difference and the taxations of love."
—Bustle
"Let us now praise purely escapist novels that fizz and pop....Jackson...has a golden ear for the gilded social stratas of New York money, and all the cocktail benefits and secret codes that come with them."
—Entertainment Weekly
"Every single character bursts off the page. Seriously. Pineapple Street is just the right witty, entertaining story to usher in spring."
—Real Simple
"A charming, funny, and keenly observed story about New York City's one percent—and what it means to find yourself among them, whether by birth or marriage."
—Town and Country
"A wealthy Brooklyn Heights family has drama to spare — not to mention plenty of trust funds — in this modern take on a Gilded Age novel."
—The New York Post
"Pineapple Street encapsulates the oftentimes ridiculous nature of the ultra-wealthy. The author seamlessly immerses readers in the lives of the Stocktons...[who] must ask themselves the uncomfortable question: Is it possible to be "good" with this much money?"
—Shondaland
"There is a particular pleasure to reading about the languid rich: people with names like Poppy and Georgiana, who quake under the pressure of owning too many properties and whose biggest problems involve accidentally leaving their Cartier bracelet in the BMW of a friend who's about to leave for Southampton. In her debut novel Jenny Jackson delivers a very funny domestic drama of a family drowning in their own excess and over-education. You will heartily enjoy judging them."
—Glamour
"Smart and clever, minutely observed and packed with one-liners, Pineapple Street is a more complicated read than it looks… surprisingly poignant."
—The Guardian
"This is a literary version of The Real Housewives. Filled with fun, sometimes sloppy, characters with an enchanting and enthralling plot. This is the perfect book to shake off the winter snow with. Hot, hot hot."
—Debutiful
"Packed with the pleasures of New York's one-percent, wealth mixes with family and love in this witty debut."
—SheReads

"Filled with humor, love, the ups and downs of marriage, and tennis whites, this family's story is both endearing and exasperating. Readers will enjoy the author's exploration of both the perks and downsides of generational wealth."
—Booklist
"A family drama dripping in gossip, sabotage, and old-school New York luxury."
—Popsugar
"Jenny Jackson's deft debut takes on the topic of generational wealth with a keen Austenian eye...an engaging and absorbing read, with a supremely satisfying conclusion, perfect for book groups or to pass along to a good friend."
—Bookreporter.com
"Jackson has a deft hand....Rich-people jokes, cultural acuity, and entertaining banter keep this novel moving at a sprightly pace....A remarkably enjoyable visit with the annoying one percent, as close to crazy rich WASPs as WASPs can get."
—Kirkus
"Brooklyn socialites, trust funds, and family secrets are at the center of this un-put-downable comedy... [Pineapple Street] grabs your attention and keeps it."
—TheSkimm
"Witty, escapist and full of heart, with a cast of loveable flawed characters, Pineapple Street is a beautifully observed novel about the complexities of family dynamics, while also asking the age-old question: can money really buy you happiness?"
—SheerLuxe

"[A] brilliant debut. . . . It's both sharply drawn and compassionate."
—BBC
"Pineapple Street is that rarest of gifts—a novel you don't want to put down for anything. Transporting and laugh-out-loud funny, this intergenerational story is a perfect tale for our times."
—J. Courtney Sullivan, New York Times bestselling author of Friends and Strangers

"In this vibrant and hilarious debut, Jenny Jackson has taken a familiar tale—siblings, family money, competing interests—and given it fresh life. What binds the book together so wonderfully is Jackson's keen understanding of the beauty and difficulty of belonging, of how our desires can clash with our inherited narrative and what happens to the people we love when we need to rewrite the story. Pineapple Street is riveting, timely, hugely entertaining and brimming with truth." 
—Cynthia D'Aprix Sweeney, New York Times bestselling author of The Nest and Good Company
"Jenny Jackson delivers SUCH a delicious treat with her debut novel, Pineapple Street. It delights across the board — character (the wealthy, quirky Stockton family), setting (an insider's look at Brooklyn) and plot (a searingly honest exploration of class and privilege.)  With shifting points of view and smart, laugh-out-loud observations on every single page, Pineapple Street is an instant classic."
—Elin Hilderbrand, #1 New York Times bestselling author of The Hotel Nantucket
"Set in the windy, sun-dappled streets of Brooklyn Heights, Pineapple Street is a portrait of a NY family strait-jacketed by their own wealth that is at once searing, hilarious and poignant."
—Miranda Cowley Heller, #1 New York Times bestselling author of The Paper Palace

"I loved Pineapple Street. The characters are complex and engaging and their stories bring a particular slice of New York magically alive. So wise, emotionally honest, and such fun!"
—Helen Fielding, #1 bestselling author of Bridget Jones's Diary
 
"Full of witty and caustic observations about a privileged class of New Yorkers, Pineapple Street is a sharp and juicy satire."
—Nita Prose, #1 New York Times bestselling author of The Maid 
"I was entranced by Pineapple Street. Smart and complex, rich and gorgeous, this novel drew me in from page one. Both an escape into the lives of the fabulously wealthy and a bittersweet examination of family and heartbreak, Jenny Jackson's debut left me eagerly awaiting whatever magic she conjures next."
—Amanda Eyre Ward, New York Times bestselling author of The Lifeguards
"I'm not sure which is bigger: Pineapple Street's heart or its humor. It's smart and surprising and, yes, scrumptious. I devoured it. I can't recall the last time I read a novel that was both this heartwarming and this hilarious. One word of advice: clear your calendar before you start reading. You won't stop until you've finished. It is, pure and simple, a treasure."
—Chris Bohjalian, #1 New York Times bestselling author of The Flight Attendant and The Lioness
 
"Nothing beats a story told this well.... I could not stop laughing at this hilarious insider's view of Brooklyn Heights WASPs. Truly the smartest and most deliciously fun novel I've read in ages."
—Kevin Kwan, New York Times bestselling author of Crazy Rich Asians
"Pineapple Street might be the Edith Wharton novel for our times…Wise, funny, tender, and utterly relatable."
—Susie Yang, New York Times bestselling author of White Ivy
"A delight to read from start to finish, Jenny Jackson's Pineapple Street is a cancel-all-plans kind of book. Utterly addicting, big-hearted and affecting, and full of delicious details, Jackson lets us into an outrageous world of generational wealth and privilege through the eyes of three fallible yet lovable women navigating the complexities of life on the inside. If I could have put this novel on a drip straight into my veins, I would have!"
—Ashley Audrain, New York Times bestselling author of The Push
"If you're in search of the fiction trifecta – a captivating story that's masterfully constructed, vividly peopled, and crisply written – look no further. Jenny Jackson's "Pineapple Street," is pure reading pleasure, hilarious, big-hearted, and full of emotional truths. It's the kind of novel you hope will never end."
—Adrienne Brodeur, New York Times bestselling author of Wild Game

"Jenny Jackson has written a lovely, absorbing, acutely observed novel about class, money and love. These are the themes of Henry James and Jane Austen, but they are observed with a fresh eye and a contemporary voice. Who wouldn't want to read Pineapple Street?"
—Nick Hornby, New York Times bestselling author of Just Like You
"I devoured Pineapple Street. Jackson's writing brims with wit and warmth. Her characters are deliciously flawed and, at the same time, loveable and compelling. Her observations about family, money, class, and love are spot on....[A] messy, hilarious and ultimately relatable family story."
—Cristina Alger, New York Times bestselling author of Girls Like Us

"I sucked it down like a milkshake… My favorite part of the novel was the heart. All the characters mess up, but make amends. They TRY. And they keep trying."
—Helen Ellis, author of Bring Your Baggage and Don't Pack Light