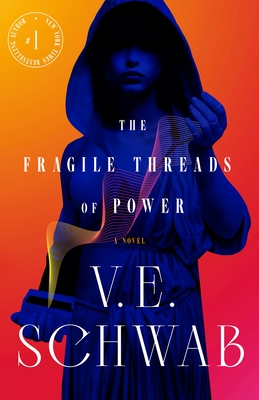 The Fragile Threads of Power
Publication Date:
September 26th, 2023
Usually Ships in 1 to 5 Days
Like all of Schwab's books, this will draw you in and dazzle you with her worldbuilding and characters, and keep you on the edge of your seat. A spectacular addition to the world of the Shades of Magic series!
October 2023 Indie Next List
Description
A New York Times Bestseller
A USA Today Bestseller
September IndieNext Pick

A new door opens...
Once there were four worlds, nestled like pages in a book, each pulsing with fantastical power and connected by a single city: London.
After a desperate attempt to prevent corruption and ruin in the four Londons, there are only three:
● Grey London, thriving but barely able to remember its magical heritage
● Red London, ruled lately by the Maresh family, flourishing and powerful
● White London, left to brutality and decay
Now the worlds are going to collide anew—brought to a dangerous precipice by the discoveries of three remarkable magicians.
There's Kosika, the child queen of White London, who has nourished her city on blood and dreams—and whose growing devotion to both is leading her down a dangerous path.
Then there's Delilah Bard, born a thief in Grey London, who crossed the worlds to become a legend far from there. She's an infamous magician, a devious heroine, and a risk-taking rogue, all rolled into one unforgettable package. Having disappeared to seek new adventure, an old favor now calls Lila back to a dangerous port, to join some old friends who need more help than they realize.
Last there is Tes, a young runaway with an unusual and powerful ability, hiding out in Red London while trying to stay out of the limelight.
Tes is the only one who can keep all the worlds from unraveling—if she manages to stay alive first.
From #1 New York Times bestselling author V. E. Schwab comes a new adventure set in a beloved world—where old friends and foes alike are faced with a dangerous new threat.
PopSugar, This Year's Best New Fantasy
Paste Magazine, Most Anticipated Fantasy Books of Fall
The Washington Post, 10 Noteworthy Books for September
Goodreads, Readers' Most Anticipated Books of Fall
Polygon, Best New SFF for the Fall
EW.com, Fall Book Must-Reads
Praise for The Fragile Threads of Power
"Schwab's visceral, engrossing writing style delivers an unputdownable yarn once again."—EW.com
"A delightfully nostalgic addition to the world V.E. Schwab has created that still keeps things fresh with the introduction of new characters and the promise of more story to come."—Polygon
"Wake up bestie, the first installment of a new fantasy series set in the world of V.E. Schwab's A Darker Shade of Magic, is about to drop—and it's one that longtime readers and new fans can both dive right into." —Paste Magazine
"Returning to the world of her fantastic A Darker Shade of Magic and its sequels, Schwab gives readers more of everything they love about that series: dynamic, unconventional characters; suspenseful plots; rich worldbuilding; and compelling relationships…Schwab's pacing is confident, assured, and the book weaves a masterful spell on the reader. A delicious treat for fans of the Shades of Magic series and a lush, suspenseful fantasy in its own right." —Kirkus, starred review
"[Schwab] writes with a sense of authority and mischief...The Fragile Threads of Power will entrance and delight fantasy readers everywhere." —Booklist
"Schwab cleverly builds on her existing worlds, introducing new threats and expanding the magic system. The new characters captivate and the plot twists shock." —Publishers Weekly
"Schwab at her best. Be ready to fall in love all over again."—Christina Orlando, Tor.com

Praise for the Shades of Magic series
"Schwab has given us a gem of a tale that is original in its premise and compelling in its execution. This is a book to treasure." —Deborah Harkness, New York Times bestselling author, on A Darker Shade of Magic
"Feels like a priceless object, brought from another, better world of fantasy books." —io9 on A Darker Shade of Magic
"Compulsively readable...her characters make the book." —NPR on A Darker Shade of Magic
"This is how fantasy should be done." —Publishers Weekly, starred review, on A Gathering of Shadows

Praise for The Invisible Life of Addie LaRue
"Schwab's page-turner is an achingly poignant romantic fantasy about the desperate desire to make one's mark on the world." —Oprah.com, Best LGBT Books of 2020
"One of the most propulsive, compulsive and captivating novels in recent memory." —Washington Post