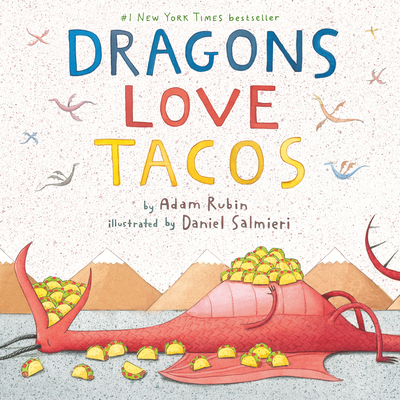 Dragons Love Tacos
Publication Date:
June 14th, 2012
Usually Ships in 1 to 5 Days
Dragons are great! And they love parties -- all kinds of parties! And tacos -- all kinds of tacos! What could be better, what could be more fun than a taco party for dragons?! Just be careful not to use spicy toppings or the results could be a bit hotter than you wanted. This red-hot little gem will have you planning a party and craving tacos in no time. Just don't forget to invite the dragons!
Summer 2012 Kids' Next List
Description
A #1 New York Times bestselling phenomenon, this deliciously funny read-aloud is an unforgettable tale of new friends and the perfect snack that will make you laugh until spicy salsa comes out of your nose.
Dragons love tacos. They love chicken tacos, beef tacos, great big tacos, and teeny tiny tacos. So if you want to lure a bunch of dragons to your party, you should definitely serve tacos. Buckets and buckets of tacos. Unfortunately, where there are tacos, there is also salsa. And if a dragon accidentally eats spicy salsa . . . oh, boy. You're in red-hot trouble.
This makes the perfect gift for any special occasion, from award-winning team of Adam Rubin and Daniel Salmieri who created Dragons Love Tacos 2: The Sequel, El Chupacabras, High Five, Robo-Sauce, and Secret Pizza Party.
Praise for Dragons Love Tacos
#1 New York Times bestseller 
Summer 2012 Kids' Indie Next List
New York Times Notable Book
* "Off-kilter fun for those who like their picture books (and salsa) zesty and fresh."—Publishers Weekly, starred review
"Dragons Love Tacos is a heaping helping of silly.  Little kids will relate to the anti-spicy bias and chuckle over Salmieri's watercolor and gouache cartoon illustrations showing literally boatloads of tacos and all sizes of dragons enjoying their favorite food at pool parties, costume parties and, well, taco parties."—San Francisco Chronicle
"The perfect book for kids who love dragons and mild tacos."—Kirkus Reviews
"The watercolor, gouache, and colored pencil cartoon illustrations are the real stars here. Regardless of, or perhaps because of, the absurdity of the story, this tale should be a big hit with anyone with an affinity for dragons."—School Library Journal