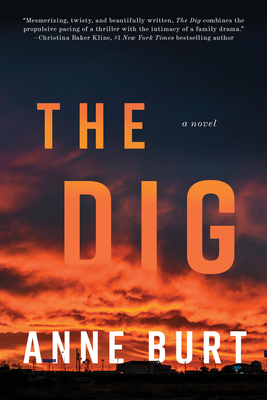 The Dig: A Novel
Publication Date:
March 7th, 2023
Usually Ships in 1 to 5 Days
With a descriptive literary style, Burt keeps you engrossed as this family drama unfolds, based on their immigration history, adolescent awakenings, and social structures that bind them. This would be a great book club pick!
March 2023 Indie Next List
Description
When Sarajevo-born siblings Antonia and Paul join a wealthy Midwestern family in the 1990s, a series of events with deadly consequences is set in motion. Now, with her career on the line and her brother missing, Antonia must race against the clock to confront long-buried family secrets
Antonia King has a complicated relationship with the past. She and her brother were found amid the rubble of a bombed-out apartment in Sarajevo and taken in by a family of contractors in Thebes, Minnesota. Eager to escape the constraints of her adopted town, Antonia embarks on a high-powered legal career. But it isn't long before her brother's mysterious disappearance pulls her back home. There, over the course of a single day, Antonia unearths decades of secrets and lies, leading to shocking revelations about her adoptive family—and the sinister truth behind her biological mother's death—that will alter the course of her life and change her definition of family forever.
Informed by timely issues of immigration, capitalism, and justice, yet timeless in its themes of love, identity, and competing loyalties, The Dig, inspired by the Greek tragedy Antigone, portrays a woman at odds with her history, forced to choose between her own ambitions and her loyalty to her beloved, idealistic brother.
Praise for The Dig: A Novel
"[An] inspired debut . . . The work's strength lies in the ways Burt complicates her archetypal characters . . . An engaging family tragedy." —Publishers Weekly
"The Dig is a riveting and chilling tale that mixes family drama and corporate intrigue (à la Succession) with thought-provoking insights about immigration, adoption, and the horrors of war. I couldn't put it down." ––Angie Kim, Author of the Edgar Award winning Miracle Creek
"Mesmerizing, twisty, and beautifully written, The Dig combines the propulsive pacing of a thriller with the intimacy of a family drama." —Christina Baker Kline, New York Times #1 bestselling author of Orphan Train
"Equal parts family drama and suspenseful thriller, The Dig is a mesmerizing exploration of family, secrets, and betrayal. Beautifully written and resonant, Anne Burt draws a complex portrait of one young woman and what she discovers about herself—and her orphaned past in war-torn Sarajevo—while she searches for her missing brother. A brilliant debut from a brilliant writer." —S. Kirk Walsh, bestselling author of The Elephant of Belfast
"The Dig is a smart, layered page turner whose propulsive plot takes on big contemporary issues about immigration and the fog of war. Toni King is a great character, a young women seeking a foothold in life and work but thrown off track by her own family. Anne Burt better write another novel soon!" —Alice Elliott Dark, author of Fellowship Point and In the Gloaming