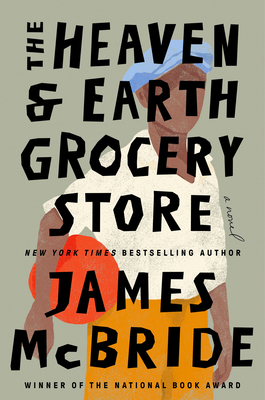 The Heaven & Earth Grocery Store: A Novel
Publication Date:
August 8th, 2023
Publisher:
Riverhead Books
Usually Ships in 1 to 5 Days
McBride's latest is full of hope, grace, and humor. With a propulsive plot about power, race, and belonging in 1920s America, it's the characters you'll remember most: caretakers, troublemakers, soothsayers. I miss them already.
August 2023 Indie Next List
Description
A NEW YORK TIMES NOTABLE BOOK
NAMED A BEST BOOK OF THE YEAR BY NPR, WASHINGTON POST, AND TIME MAGAZINE
"A murder mystery locked inside a Great American Novel . . . Charming, smart, heart-blistering, and heart-healing." —Danez Smith, The New York Times Book Review
"We all need—we all deserve—this vibrant, love-affirming novel that bounds over any difference that claims to separate us." —Ron Charles, The Washington Post
From James McBride, author of the bestselling Oprah's Book Club pick Deacon King Kong and the National Book Award–winning The Good Lord Bird, a novel about small-town secrets and the people who keep them
In 1972, when workers in Pottstown, Pennsylvania, were digging the foundations for a new development, the last thing they expected to find was a skeleton at the bottom of a well. Who the skeleton was and how it got there were two of the long-held secrets kept by the residents of Chicken Hill, the dilapidated neighborhood where immigrant Jews and African Americans lived side by side and shared ambitions and sorrows. Chicken Hill was where Moshe and Chona Ludlow lived when Moshe integrated his theater and where Chona ran the Heaven & Earth Grocery Store. When the state came looking for a deaf boy to institutionalize him, it was Chona and Nate Timblin, the Black janitor at Moshe's theater and the unofficial leader of the Black community on Chicken Hill, who worked together to keep the boy safe.
    As these characters' stories overlap and deepen, it becomes clear how much the people who live on the margins of white, Christian America struggle and what they must do to survive. When the truth is finally revealed about what happened on Chicken Hill and the part the town's white establishment played in it, McBride shows us that even in dark times, it is love and community—heaven and earth—that sustain us.
    Bringing his masterly storytelling skills and his deep faith in humanity to The Heaven & Earth Grocery Store, James McBride has written a novel as compassionate as Deacon King Kong and as inventive as The Good Lord Bird.
Praise for The Heaven & Earth Grocery Store: A Novel
Praise for The Heaven & Earth Grocery Store:
"I keep thinking every time I read one of his books, 'That's his best book.' No. THIS is his best book." —Ann Patchett

"This is one of those novels that becomes a part of you. It's a great book. Every character is rich; every detail is rich. I can't recommend this one highly enough. He's a great author and I think this is his best work." —Harlan Coben

"With this story, McBride brilliantly captures a rapidly changing country, as seen through the eyes of the recently arrived and the formerly enslaved . . . And through this evocation, McBride offers us a thorough reminder: Against seemingly impossible odds, even in the midst of humanity's most wicked designs, love, community and action can save us." —The New York Times Book Review
"The Heaven & Earth Grocery Store is one of the best novels I've read this year. It pulls off the singular magic trick of being simultaneously flattening and uplifting." —NPR
"[A] tour de force . . . [a] mesmerizing, moving, almost magical tale . . . [McBride] writes sentences and paragraphs that swing like jazz melodies." —The Associated Press

"Classic McBride: He doesn't shy away from bold statements about the national catastrophes of race and xenophobia, and he always gives us a spoonful of sugar to help the medicine go down. The sugar is McBride's spitfire dialogue and murder-mystery-worthy plot machinations; his characters' big personalities and bigger storylines; his wisecracking, fast-talking humor; and prose so agile and exuberant that reading him is like being at a jazz jam session. . . . Reading McBride just feels good—we are comforted and entertained, and braced for the hard lessons he also delivers." —The Atlantic
"Sharp and nimble and warm as a wool hat, James McBride's prose seems to transcend all earthly concerns, allowing him to write with compassion, humor and authority." —The Philadelphia Inquirer
 
"A story of community, care, and the lengths to which we'll go for justice, McBride's tale is a wondrous ode to the strength of humanity in a small town." —Time Magazine
"Enchanting . . . [a] rich, carefully drawn portrait of a Depression-era community of African Americans and Jewish immigrants as they live, love, fight, and, of course, work." —The Boston Globe

"McBride . . . would never advance any of his books as candidates for the Great American Novel. . . . I'd like to make a case, though, for Deacon King Kong and, now, The Heaven & Earth Grocery Store as better contenders for the 21st-century GAN than many other, more vaunted specimens. . . . In the words of Walt Whitman (an American writer McBride often brings to mind), they contain multitudes." —Slate