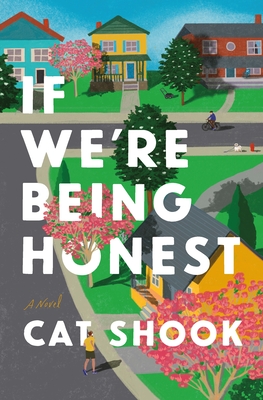 If We're Being Honest: A Novel
Publication Date:
April 18th, 2023
Usually Ships in 1 to 5 Days
Shock, awe, and hilarity at a funeral start off this highly original novel. Serious topics are treated with a light enough hand to entertain, and strong characters, surprises, and intriguing family dynamics make this a great choice.
May 2023 Indie Next List
Description
For fans of We Are the Brennans by Tracey Lange and All Adults Here by Emma Straub, Cat Shook's debut novel If We're Being Honest is the snappy, smart, heartwarming story of the Williams family, and the sweltering summer that rewrote their history.
When Gerry, the beloved Williams patriarch, dies suddenly, his grandchildren flock from across the country to the family home in Eulalia, Georgia. But when Gerry's best friend steps up to the microphone to deliver his eulogy, the funeral turns out unlike anyone expected. The cousins, left reeling and confused, cope with their fresh grief and various private dramas. Delia, recently heartbroken, refuses to shut up about her ex. Her sister Alice, usually confident, flusters when she spots her high school sweetheart, hiding a secret that will change both of their lives. Outspoken, affable Grant is preening in the afterglow of his recent appearance on The Bachelorette and looking to reignite an old flame with the least available person in town. Meanwhile, his younger brother Red, unsure of himself and easily embarrassed, desperately searches for a place in the boisterous family.
The cousins' eccentric parents are in tow, too, and equally lost—in love and in life. Watching over them all is Ellen, Gerry's sweet and proper widow, who does her best to keep her composure in front of the leering small town.
Clever and completely original, If We're Being Honest reminds you that while no one can break your heart like your family can, there's really no one better to put you back together.
Praise for If We're Being Honest: A Novel
"I couldn't stop reading. It is phenomenal."
—Christina Lauren, New York Times bestselling author
"A deeply felt and thoughtful debut about a family thrown into chaos during a week that will change them all forever."
—Jennifer E. Smith, bestselling author of The Unsinkable Greta James
"If We're Being Honest delivers my favorite kind of family story: varying levels of hilarious dysfunction, all wrapped around a core of love. I would have gladly kept turning a hundred more pages to follow these cousins."
—Mary Laura Philpott, author of Bomb Shelter: Love, Time, and Other Explosives
"Shook's delightful and perceptive debut follows a family through an eventful week that begins with a funeral and ends with a wedding... Like a stone skipped across water, Shook flits seamlessly from one character to the next, and remarkably, all emerge as three-dimensional characters. Even with its many strands of plot, the novel never feels rushed, and Shook sprinkles some wild surprises into the goings-on. Readers will find plenty to savor."
—Publishers Weekly, STARRED Review
"In a deep-south small town in Georgia, the Williams patriarch, 82-year-old Gerry, has suddenly passed away from a heart attack. The revelations at his funeral are about to make his clan question everything they thought they knew, especially his four grandchildren, Alice, Delia, Grant, and Red. Their dynamics take center stage in this witty family drama. "
—Booklist
"An appealing, astutely observed debut about familial love and the secrets we keep."
—Kirkus
"Cat Shook's debut novel is a poignant and funny look at one family's dynamics."
—Country Living
"When Gerry dies suddenly, his far-flung family returns to Georgia to mourn their patriarch. But when his best friend reveals a shocking secret during his eulogy, it throws the clan into turmoil. Suddenly, the Williams cousins are forced to confront their own secrets while grappling with a new perspective on the man they thought they knew in this heartwarming family saga."
—Good Housekeeping
"For fans of Tracey Lange's We Are the Brennan's, Emma Straub's All Adults Here and Jonathan Tropper's This Is Where I Leave You, If We're Being Honest is about the secrets and lies we tell ourselves and others, and the power of family to get us through the very best and very worst parts of life. Pack this one in your beach bag—it's a delight."
—PureWow
"Sometimes you read a book that is so relatable you start to worry that someone has been secretly filming your family reunions. If We're Being Honest by debut author Cat Shook is that book."
—Deep South Magazine